UNDERSTANDING OUR BUSINESS AS A BATTERY MANUFACTURER
As a French expert in designing and manufacturing custom batteries, we help you define your battery system, from designing the mechanics, electronics, and the associated BMS (Battery Management System) to characterizing the individual cells, performing 100% quality control and safety tests, and assisting you with certification procedures.
We hold direct supply chain relationships – no distributors – with our component suppliers, and we manufacture your batteries in our workshops in France.
We advise you on how to integrate them into your devices and vehicles and share our expertise regarding charging infrastructure implementation rules if you manage a fleet of vehicles. We also continue to provide you with support via our MCO (Maintenance in Operational Condition) service to ensure you can use your batteries in the long term as we integrate our #DesignForRepair approach from the outset of the design stage.
The battery value chain comprises various players with specific expertise. Here is a representation of our strategic positioning within this value chain.

Focused on producing long-lasting and repairable battery systems, easyLi produces batteries in its French factory in Poitiers-Futuroscope:
We also use our technology bricks to develop and manufacture battery systems for a wide range of applications.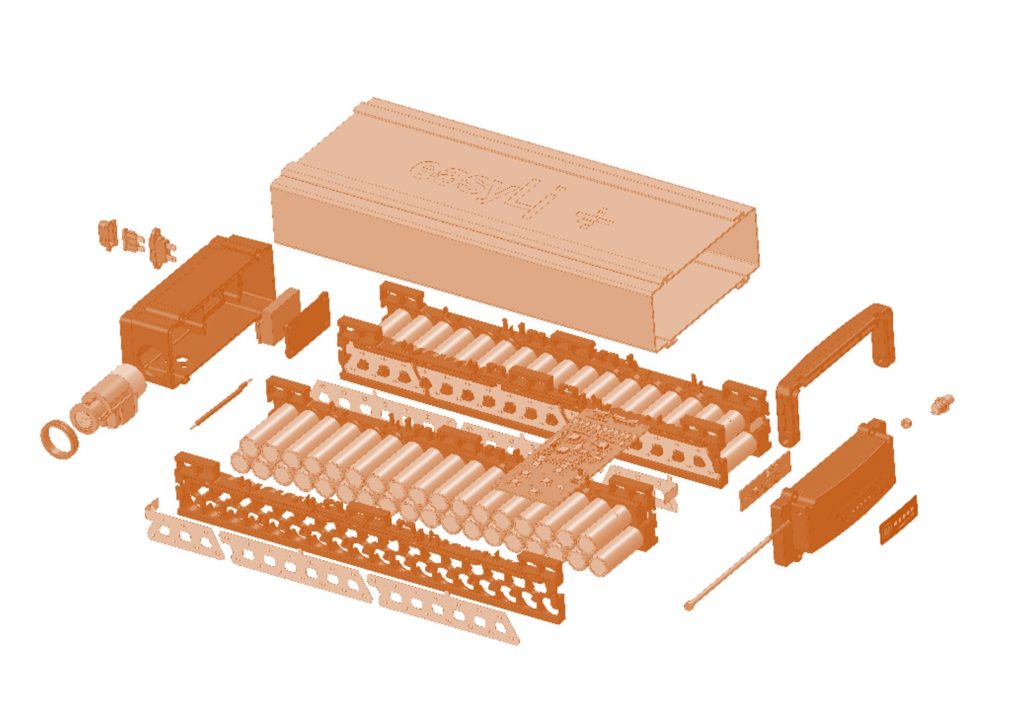 Do you have a project? Would you like some help, or do you need help defining your precise requirements? We are here for you, starting with the preliminary study phase, which will allow us to confirm the specifications of your battery system and its environment (charger, communication with the application, mechanical and thermal constraints, etc.).
We will define the battery system that best suits your uses (autonomy, power, dimensions, weight, communication with the device, etc.) for you, integrating your budgetary expectations (DesignToCost) and our know-how in terms of sustainability (DesignForRepair). THE ADVANTAGES OF OUR BATTERIES
Expert manufacturer of lithium-ion battery systems
Since 2011, we have been designing and manufacturing sustainable lithium-ion batteries for electric mobility and stationary storage for manufacturers and operators of two- to four-wheel electric vehicles, logistics and robotics industries, and building professionals committed to improving their energy performance.
Our solutions are sustainable because they are designed to be easily disassembled and repaired following a high-performance industrial process. We provide Maintenance in Operational Condition (MOC) services for our products to extend their lifetime.
Subscribe to our newsletter!
Subscribe to our newsletter to be among the first to receive our latest news.